Haritamritam, a green initiative of Mata Amritanandamayi Math was also launched in Pune. The project was inaugurated and blessed by our most beloved Amma by distributing the first NINE saplings to the Ayudh Team leaders during Amma's Pune visit in March 2016.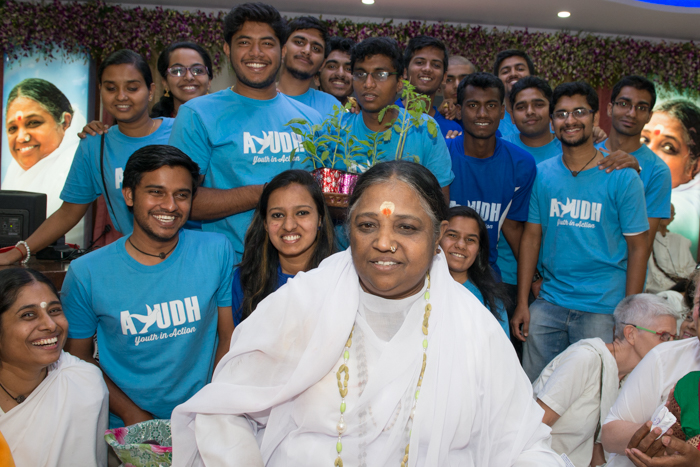 Amma says "Each family should plant a vegetable garden and should be able to eat vegetables grown organically at least once in a week. Even apartments residents can grow vegetables in window boxes and on terraces. This relationship to Nature will give us a new vitality".
Inspired by Amma's words, the Ayudh Pune team has decided to spread the culture of organic terrace farming in 5000 families in next ONE year.
Objectives of the project are Health benefits, Enrichment of environment, self reliance and reconnection with the powers of nature. The team will identify the areas, visit societies, explain the relevance of organic farming, distribute pamphlets, hand books & instruction manual, demonstrate the terrace farming technique and conduct workshops in societies.The formal function with dignitaries and the project kick off will be done on June 5, World Environment Day.

Haritamaritam Programs
Events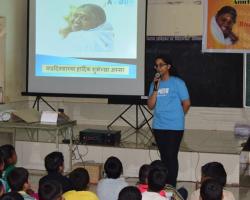 On 25th September 2016, a team of AYUDH members of Pune chapter celebrated Amritavarsham 63 -Amma's 63rd birthday in a unique way with the deprived children of a nearby slum.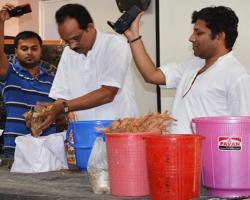 A workshop was organized by the AYUDH team in order to train the Haritamritam Project coordinators.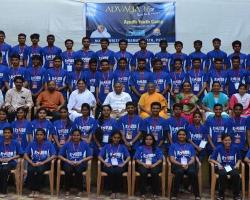 Advaya'16'- a two day Ayudh youth camp was organized at Mata Amritanandamayi Math, Pune on 27th and 28th February 2016.
Videos
Promo Video
Project Phase 1 Video