DEVI (Developing and Empowering the Visually Impaired) aims to create a society where there is no difference between the differently abled and the able bodied. DEVI intends to boost the self-confidence of the visually impaired and make them believe that every individual in this world is unique and holds the capability to make his mark. Objectives are to build rapport, uplift self-confidence, teach basics of computers, improve communication skills and build confidence, groom their skills as per industry needs and assist them in finding the right jobs to support their family.
This is a project of AYUDH, which is meant for the visually challenged. Ayudhians went personally to them to help them in their day-to day activities. DEVI project was started in Pune to help the visually challenged in all their activities and daily functions. The Ayudhians got an opportunity to help those who were blind.And they themselves realized how lucky they were to be born perfectly normal. They got to know about their difficulties also.
News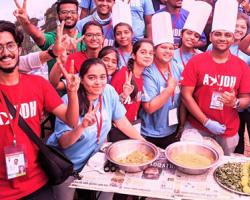 June 3, 2019
Ayudh Pune Food Court at Amma's program venue under the leadership of our AYUDH core team member Shantanu Kanthale who is a professional chef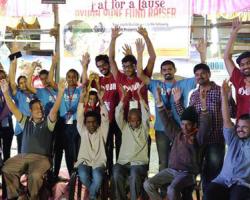 June 3, 2019
AYUDHians brought the DEVI project (Development & Employment of the Visually Impaired) beneficiaries for Amma's Darshan during Amma's Pune visit 2019.