Ayudh, or Amrita Yuva Dharma Dhara is the youth wing of Mata Amritanandamayi Math aiming to use the powerful force of young people to perpetuate natural harmony, social justice, and personal empowerment.
Address : Ayudh Kolkata, West Bengal, India
Phone : 8697679156, 9433096671
Co-ordinators : Tapan Naskar, Rumki Das
E-mail : rumkidas1520@gmail.com
EVENTS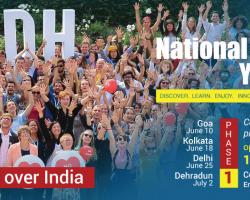 AYUDH would love youth from premiere educational institutions/organizations to participate in the National Pre-Camp Youth Meet which will be held in 20 states all over India. The program is open to youth between 18 - 30 years.