Ayudh, or Awaken Youth; Unite for Dharma is the youth wing of Mata Amritanandamayi Math aiming to use the powerful force of young people to perpetuate natural harmony, social justice, and personal empowerment.
Address: Mata Amritanandamayi Math, Sultan Bathery Road, Boloor, Mangaluru- 575003
Phone : 9480647227 | 8951470744
Co-ordinators : Sudeep | Niveditha
E-mail : d.sudeep@rediffmail.com | centrecoordinator.mlr@gmail.com
EVENTS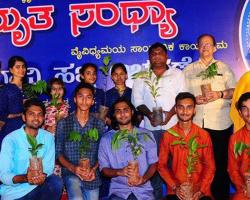 On the auspicious occasion of Sauramana Ugadi, Mata Amritanandamayi Math, Mangaluru held Sathyanarayana Pooja in the Brahmasthana Kshetra on April 14, 2017.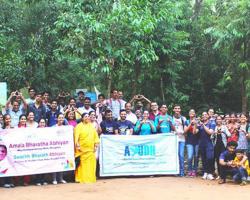 On the occasion of WORLD HEALTH DAY, Team AYUDH Mangaluru, with the leadership of Bri. Mangalamrta Chaitanya, conducted Adventure Retreat to Kumara Parvatha on 07-08 April 2018.