Charmadi Ghats Trekking by Ayudh Mangaluru Chapter
Charmadi Ghats Trekking by Ayudh Mangaluru Chapter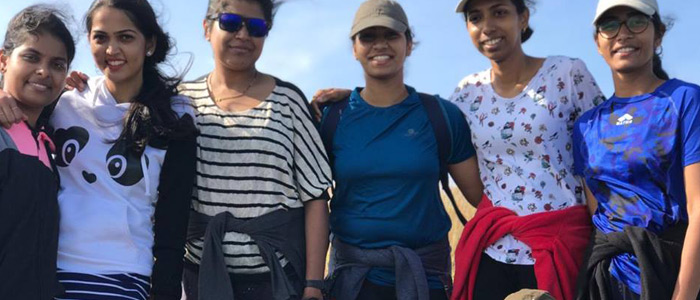 Team AYUDH Mangaluru organised a trekking in Charmadi Ghats in association with Sahyadri Samrakshana Sanchaya over the second weekend of December 2018. This event was spearheaded by the Convener of Sahyadri Samrakshana Sanchaya Mr. Dinesh Holla, who is an ardent trekker and strong Environmentalist who first initiated the campaign 'Clean the Ghats'.
A perfect winter trek for its moderate terrain, a birding paradise, abundant wildlife and a grand summit with spectacular views of some of the mesmerizing mountain ranges in India.
The trek begins from a quaint little village called Kelaguru. It is situated in Chikmagalur district and is known for its tea and coffee estates. Amongst the dense tea and coffee estate, we were rewarded with the sight of blossom for both Arabica & Robusta, which was an unbelievable sight. The blossom flowers covering the entire fields together with its fragrance was a beautiful rare experience for Kelagur. Graduated terraced and steep-farmed estates are artistically carved out of every mountain dotting the landscape.
The trek begins leisurely since the first day of the trek involves a short hike of 6 kms. As we start our gentle ascend our first stop was Sri Hemavathi Ganapathy Temple. Mr. Dinesh Holla gave us a small introduction about the temple's history explaining the intricacies of its existence. It also happens to be the origin of the magnificent river Hemavathi. An hour into the climb we could see scenery and beauty of the village that cluster in and around the foothill of Western Ghats. Then the trail is a paved pathway which goes up the mountain. One final pit-stop for the day, when we decided to camp. We halted at one of the local villager's backyard, where we erected our tents and cooked our dinner.
Next day morning started with three-hour long trek to Ramekalmedu. Trek trail began past the village entering into the forest thickets. On reaching a clearing we could see the village in the valley below on one side and layers of Western Ghats peaks on the other. Ascending begins from this point on, winding along the mountain ridge. Huffing and puffing we climb for a whole hour and reach the flag point. Ramekalmedu peak rises like a pointed end of a witch's hat and seems to be calling out to us. A final push to the summit to reach during sunrise is totally worth it. The panoramic views leave you spellbound, feeling like the top of the world.
Throughout the trek Mr. Dinesh Holla shared his vast experience and knowledge on Western Ghats. This helped us to connect with the nature and educated us the impact of Western Ghats to our community. He showed us how the Western Ghats are remarkable for being the headwaters of all the major and many smaller rivers of the peninsula. This motivated Team AYUDH further to carry out the regular Amala Bharatam Campaign (ABC) along the trek trail collecting plastic waste left behind the tourists and trekkers.
We wish to express our deep gratitude to Mr. Dinesh Holla and Team Members who as great companions brought in lot of joy and happiness.
Thank you Team Ayudh Mangaluru
Hats off to @DineshHolla Sir
Tags:
2018
,
Karnataka
,
Mangalore