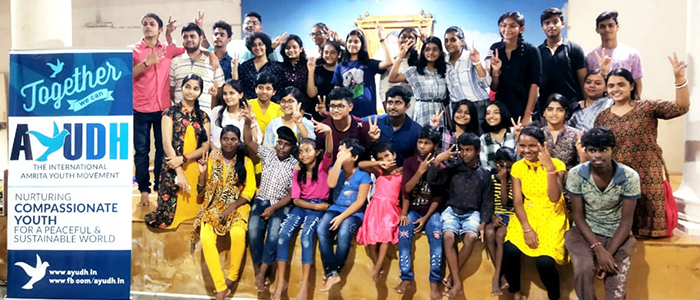 Amma says,"If you are able to remove
someone's sorrow, even for a second
you receive life's blessings".
Practicing Amma's teachings in their life, AYUDHians at Kolkata celebrated our beloved Amma's birthday with the children residing at the slum of Sampa Mirza Nagar Colony, Rampur.
AYUDHians together cut the cake and also distributed sweets and snacks to the children. Grocery items required for their family were also given. They interacted with the children, sang with them and performed dances for them. AYUDHians also organised games for the children and played along with them.
"I feel fortunate to be a part of this event arranged for our beloved Amma's birthday on the auspicious day of Mahalaya and I am grateful to everyone who participated so enthusiastically and made it a grand success in bringing joy in all their hearts. With no doubt we all are happy because the actual happiness is in giving, helping, sharing and joining hands ! When we get something it makes us happy for some time but when we give something the nectar of happiness fills our heart. Looking forward to more such events! Thanks to Amma for giving us this opportunity." Said Anwesha Mukherjee, AYUDH coordinator of Kolkata, who works for Cognizant, Kolkata
Kankona, the AYUDH coordinator from Amrita Vidyalayam Kolkata said that it was a day spent with tons of joy and happiness... "I feel so proud to be an AYUDHian and getting a chance to fill smiles and joy in the hearts of many by sharing and having fun with them... Everyone was equally responsible for making the event a grand success... With Amma's grace the whole event went smoothly... Sharing gives a joy which is experienced by few... And I'm grateful that today we all felt the happiness which one feels after sharing and helping and making new friends... Looking forward to more such events".
All AYUDHians said that they experienced real joy through giving, sharing, loving and caring for the children. Despite great difficulties, the happy smile on the face and the tolerance the children showed was really wonderful. All of them said that the moments spent together were really cherishable and memorable.They had such a selfless and joyful experience and looking forward to getting more opportunities like this in future to help others. May Amma bless them to continue with similar events !!
Tags:
2023