Ayudh Ahmedabad Distributed Saplings
Ayudh Ahmedabad Distributed Saplings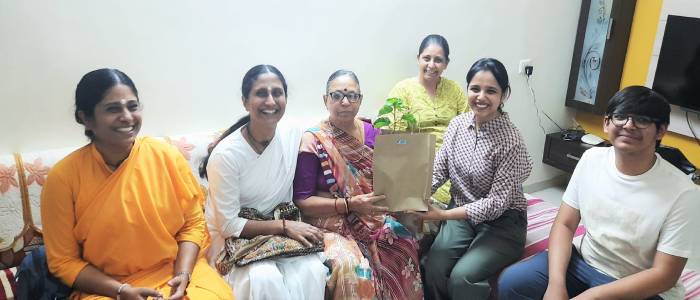 The Core Members of AYUDH Ahmedabad Team visited the houses, conducted an environmental awareness program sharing Amma's message about Nature Conservation and distributed saplings to the families on the occasion of Mother Earth Day 2022.
The family members were so overwhelmed and excited by seeing the enthusiasm of the youngsters who are the promise of the Future! They appreciated the AYUDH initiatives and said, they are happy to see Ayudhians practicing the values by loving and serving Mother Nature.
They promised Ayudhians that they will continue plantation, build and maintain their own 'Green garden' at home.
"We are really touched that AYUDH members visited our homes and shared Amma's message and gifted saplings! We all hope for a Future where people and Nature Thrive. We are so happy to hear about AYUDH projects and we wholeheartedly cooperate and do our bit towards the success of their efforts", said all the family members