Ayudh Ahmedabad Organized Self Management Workshop
Ayudh Ahmedabad Organized Self Management Workshop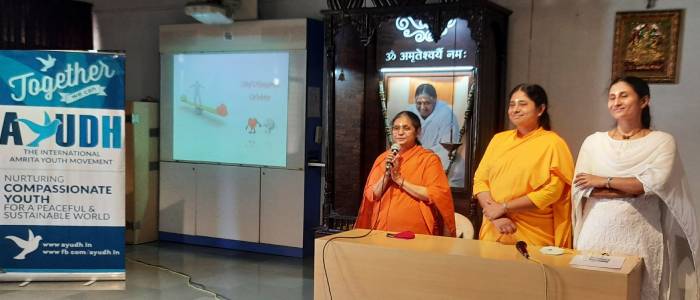 Amma says, "Real success is gaining the ability to face situations in life with maturity". The three sessions of Self-Management Workshop for the senior students at Amrita Vidyalayam, Ahmedabad saw wonderful participation and interactions of young minds. The workshop was conducted by the coordinators from AYUDH National Coordination Committee, Amritapuri.
Swamini Samadamrita Prana, the Director of the school spoke to the students about the benefits of being an AYUDH member. The students were excited to understand from her, how AYUDH as a Youth Platform help them to learn and serve even after completing their school period. They registered with AYUDH and expressed their gratitude and said, they are extremely happy that by associating with AYUDH, they continue to get opportunities to learn for the life and serve the world! The senior Ayudhians interacted with the students and shared their wonderful experiences with AYUDH.
"The Self-Management Workshop was a wonderful experience, considering managing the body, mind and the Soul. The Youth of this generation, require all the qualities that were brought out by the activities conducted in the workshop. These qualities, make future leaders who serve for the wellbeing of the society. AYUDH in all means gives youth the platform to safely under AMMA's grace, serve the society. Being an AYUDH member for past 3 years, gave me some nostalgic memories when greeting the new members", remarked Ms Saishweta, The AYUDH Core team member from AV Ahmedabad.
"Being part of AYUDH is one of the best part happened with me as it has help me to shape myself for inner growth which also helped me to serve others better. It has also helped me in gaining qualities such as Teamwork and Leadership. I am happy that I can continue learning and serving after passing out from the school also", said Mr Aryan Raval of 12th class AV Ahmedabad.