Ayudh Baneswar Conducted Self-Management Workshop for Junior College and Senior Students
Ayudh Baneswar Conducted Self-Management Workshop for Junior College and Senior Students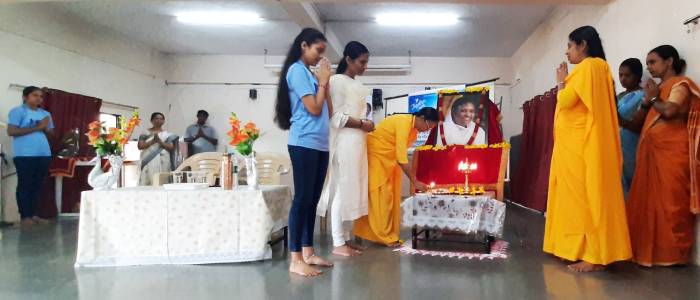 Self-Management Workshop for Junior College and senior students of Amrita Vidyalayam at Baneshwar, Pune saw wonderful participation and interactions of young minds. The workshop was conducted by the coordinators from AYUDH National Coordination Committee, Amritapuri.
Inspirational talks and interactions, Group singing, Meditation and Q&A sessions were held and the coordinators shared the importance of integrating the principles of sanatana Dharma in life. The participants learnt an array of service related values including positivity, cultivating genuine compassion, making sacrifices, serving with a smile, having concern for community and environment all have roots in sanatana Dharma. After the session they said that, they experienced what true happiness and peace felt like, when they dived deep within during the meditation and overall the session was a contemplating experience. We hope to continue such programmes and help re-charge young minds with enthusiasm and energy.
Brahmacharini Nayanamrita Chaitanya, the Principal of the school welcomed the coordinators from Amritapuri. The students were excited to understand from the speakers, how AYUDH as a Youth Platform help them to learn and serve even after completing their school period. They registered with AYUDH and expressed their gratitude and said, they are extremely happy that by associating with AYUDH, they continue to get opportunities to learn for the life and serve the world! The senior Ayudhians interacted with the students and shared their wonderful experiences with AYUDH.
"The Self-Management Workshop was a wonderful experience, considering managing the body, mind and the Soul. The Youth of this generation, require all the qualities that were brought out by the activities conducted in the workshop. These qualities, make future leaders who serve for the wellbeing of the society. AYUDH in all means gives youth the platform to safely under AMMA's grace, serve the society. I am so thankful to Amma for this opportunity to Love and Serve", remarked Ms Aishwarya Bhagat, The AYUDH coordinator from Baneshwar.
"Being part of AYUDH is one of the best part happened with me as it has help me to shape myself for inner growth which also helped me to serve others better. It has also helped me in gaining qualities such as Teamwork and Leadership. I am happy that I can continue learning and serving after passing out from the school also", said Mr Zanje Soham Dasharath of 12th class AV Baneshwar.