Ayudh Baneswar Visited Orphanage
Ayudh Baneswar Visited Orphanage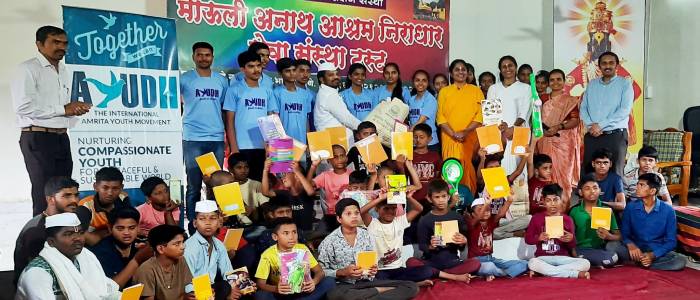 Amma says, "Compassion is the most important factor in our lives. It is the first step. If we take this first step courageously, without fear, then all of our decisions and subsequent actions and their results will have a special beauty, spontaneity and power".
Practicing Amma's teachings in their life, AYUDHians at Baneshwar, Maharashtra visited the orphanage, 'Mauli Anadhashram' and experienced the real joy of loving and caring the children staying in the orphanage. Before the visit, they spent a week in collecting study materials such as books, pens, stationary items requied for their studies and also playing materials for the children. AYUDHians distributed what they braught for the children and experienced that the real joy is in giving and sharing.
It was so nice to see the artistic performance of the children. AYUDH members also performed dance, interacted with them, sang bhajans and organized various games for the children.
Having lunch together with the children was the most heartening and memorable experience for the AYUDH team. They said that they never had such a selfless and joyful experience.
Bhrahmacharinis from Amma's Ashram, Amritapuri distributed Amma's Prasad to all children and inmates of the orphanage.
Mr Navnath Maharaj Liman who is in charge of the orphanage said, "Many people visit here and spend time with us. This is the first time the children and all of us feel so loved and cared. We feel Amma's Love and Grace so much present here. This is the most memorable day in my life".
'We receive only what we give'. We just took one step towards the children at orphanage to give them happiness and to show more love and in return we got much more happiness, love, satisfaction and peace. Really it made me more aware and strengthened my feeling of compassion and love. Always grateful and thankful to Amma as whatever we do good or receive good is just because of Amma's Grace and in future also, Amma may give us the strength to do good for society , spread love and peace", remarked Ms Aishwarya Bhagat, AYUDH Coordinator from Baneshwar.
"If you do something good for someone in need, you will raise their spirits along with you own. It was a really heart touching moment to all of us. I learnt that not everyone in this world get the love and care like how we get from our parents. I came back home, not only with memories but also some valuable lessons. I understood it is our responsibility to share the love and happiness with those who lack it in their life", said Mr Pratik Dekhane, from AYUDH Baneshwar team.
"It was my first visit to an orphanage and I enjoyed it a lot along with learning new things. While serving them with love and selfless attitude, I felt like getting closer to Amma. I am very thankful to AYUDH for giving a fruitful and memorable expereince". Remarked Ms Gauri Walhekar from AYUDH Team