AYUDH Chennai Celebrates World Youth Skills Day 2019
AYUDH Chennai Celebrates World Youth Skills Day 2019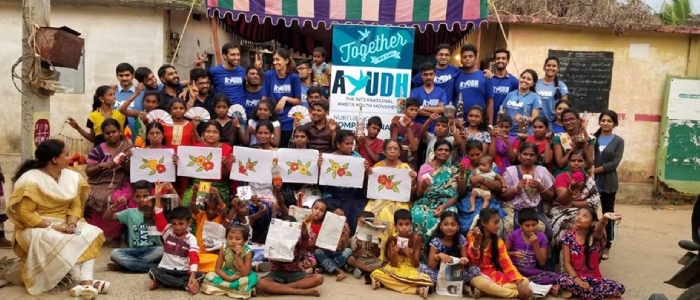 The United Nations UN at its General Assembly on November 2014 declared 15th July as World Youth Skills Day. The theme for this year's World Youth Skills Day is "Learning to learn for life and work". AYUDH Chennai celebrated World Youth Skills Day by launching a monthly skills training workshop for the women and kids in Arikumbedu village, Chennai. The village is part of Amma's massive Amrita Kuteeram project aimed at building free houses for the homeless and slum –dwellers throughout the country.
The young AYUDHians taught the villagers a wide range of skills to create products including hand fans, pen stand, wall decor, paper bags, jewellery, crochet and decorative glass & fabric designs. The AYUDHians were excited to have created income generation opportunities for the village folk. They earlier trained under the experienced ones among them.
The women and kids were happy and quick to learn the skills. AYUDHians will be back again next month with new skills to teach. We wish them all the very best!
Tags:
2019
,
Chennai
,
Tamil Nadu