Ayudh Chennai Conducted Weekly Bhajans
Ayudh Chennai Conducted Weekly Bhajans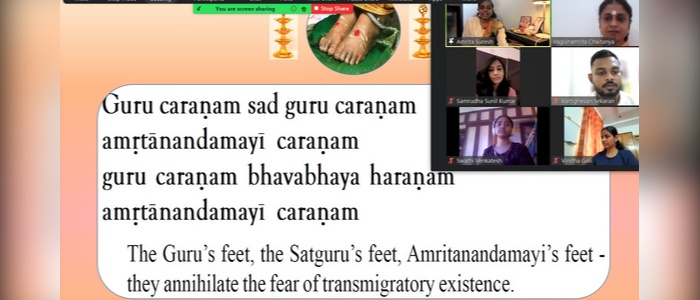 Amma says, "Darling children, to gain concentration in this spiritually dark age (Kali Yuga), bhajan is better than meditation. By loud singing, other distracting sounds will be overcome, and concentration will be achieved. Bhajan, concentration, meditation . . . this is the progression."
Wondering how to invoke the true sentiments of the bhajans and connect to your inherent divinity? Here's your answer. AYUDH Chennai kickstarted the "Online Bhajan Workshops" for AYUDHians on 6 March, under the mentorship of fellow AYUDHian from AYUDH Mumbai, Ms. Amrita Suresh.
Amrita is an Amrita Vishwa Vidyapeetham alumnus. A Dual Masters in Robotics, she currently works as a Robotics Engineer in Grenoble, France. Amrita has been singing bhajans since the age of four. She received formal training in classical Carnatic music from her mother, and also plays the harmonium and the keyboard.
In spite of her busy schedule of work and seva, she joins us all the way from France every Sunday between 12pm – 1pm IST. She takes the participants through the whole bhajan starting from the basic information to selecting the right pitch for a bhajan, the talam a bhajan is set to and even hints at the different variations that can be taken along with making us understand the meaning of each bhajan to help connect better and truly feel the song.
AYUDHians joining from across the world, are loving each and every minute of these sessions. AYUDH Chennai would love to take on board anyone who is truly keen to explore this wonderful experience.