Ayudh Kolkata Participated Self Management Workshop for Amrita Vidyalayam Students
Ayudh Kolkata Participated Self Management Workshop for Amrita Vidyalayam Students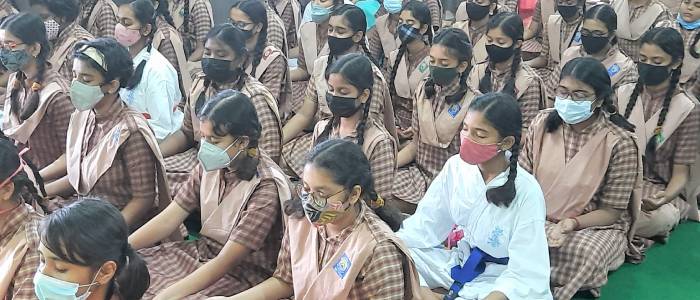 The senior students of Amrita Vidyalayam, Kolkata participated in the Self-Management Workshop organized by the AYUDH Coordinators from the National Coordination committee, Amritapuri. The School Principal Ms Priya Nair spoke to the students about the benefits of being an AYUDH member and the students were excited to understand from her, how AYUDH as a Youth Platform help them to learn and serve even after completing their school period. They registered with AYUDH and expressed their gratitude and said, they are extremely happy that by associating with AYUDH, they continue to get opportunities to learn for the life and serve the world!
The workshop gave an insight to the participants about the true success and the right ways to march towards that on the path of Dharma! They also learned the importance of having the ability to effectively manage the stress, emotions, thoughts etc. and the techniques mentioned in Sanatana Dharma to master the mind and to face challenges in life.
They enjoyed singing together for world peace along with Amma's voice in the presentation audio. The group meditation was a reminder for the daily meditation practice to have relaxation and calmness within.
The AYUDH Kolkata coordinator Ms Annesha Mukherjee who works with Cognizant (CTS, Kolkata) shared her experience about how AYUDH helped her to learn values and serve the Nation & Mother Nature which has braught the real happiness in her Life !!
The AYUDHians who won prizes in the AYUDH Virtual Contests (organized during the pandemic) were rewarded in the workshop.
The participants enthusiastically interacted with the coordinators from Amritapuri and expressed their views openly. Also thanked them for the wonderful workshop which helped them to understand, their Dharma in a better way.
"The workshop really inspired me a lot to think and act in the right way. It was an overwhelming experience. I could learn a lot of good things for my daily practice. I feel positive vibes after the sessions.", said Mr Debayan Das, a 12th class student.