AYUDH Mumbai Celebrated Diwali 2021
AYUDH Mumbai Celebrated Diwali 2021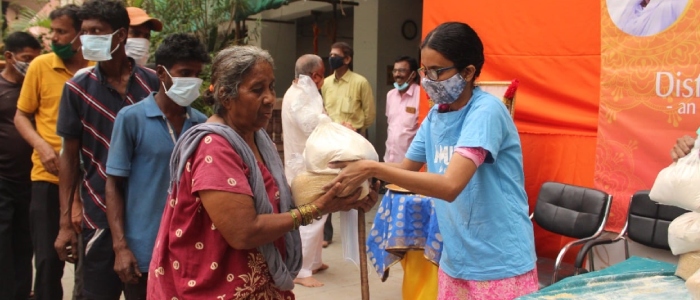 AYUDH Mumbai organized an event to distribute food essentials, rice and wheat flour to hundreds of poor slum dwellers in and around Navi Mumbai - an initiative that brought out the true Diwali spirit of giving !
Shri Sujendra Arvikar, senior official at the Brihanmumbai Municipal Corporation, the special invitee at the event commended the noble initiative of the AYUDH.
Swami Avyayamritananda Puri, in his address, remarked that when divine qualities such as love, compassion and service are invoked within, in God's parlance, we become worthy of divine grace; and grace makes everything possible. He lauded the AYUDHians for single-handedly embarking upon this noble endeavor.
Thereafter, AYUDHians, assisted by local devotees, distributed the foodstuff to the poor; in the festive spirit, sweet biscuits were also distributed to the poor kids who all became recipients of this sublime gesture.
This was yet another opportunity for AYUDHians to practice Amma's profound teaching that "All of spirituality is contained in that one word - Compassion."
Tags:
2021
,
Maharashtra
,
Mumbai