Ayudh Pune Organized Self Management Workshop
Ayudh Pune Organized Self Management Workshop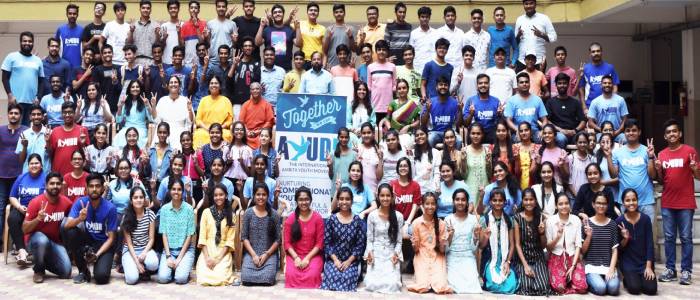 AYUDH Pune had a magnificent Get-Together after a long break due to pandemic. They have been eagerly waiting to celebrate the get-together and offline events. It was organized along with a great learning workshop which was conducted by the AYUDH Coordinators from the National Coordination Committee at Amritapuri.
During the workshop, the speakers emphasized the importance of understanding the basics of Sanatana Dharma and reflecting those principles in thoughts, words and actions which will in fact bring the real success in one's Life! The youngsters learnt that the values for life including positivity, cultivating Love & Compassion, making sacrifices, serving with a smile, having concern for the society and the environment all have the roots in Sanatana Dharma. The Meditation and Singing together for the World Peace were thoroughly enjoyed by the participants and they said, "It was an opportunity for us to realize that true happiness and peace is found only when one dives within and such practices re-charge the minds with enthusiasm and energy. We also understood the true ways to attain mental health & peace and benefits of meditation."
Another inspiring session in the workshop was the interaction and experience sharing with AYUDHians who were out of Pune. Tejas Somadas from KPIT Germany, Devidayal, TCS, Kochi and Arya Anilkumar from Amrita University, Coimbatore joined live, greeted the participants and spoke, how they expereinced the of 'Joy of Giving' through AYUDH. They encouraged AYUDHians to bring new ideas and do their bit to make a difference in the society.
New members registered with AYUDH and said that they are excited to look forward to learn and serve through AYUDH. The workshop ended with prize distribution for the online contests that the AYUDHians participated in 2020-2022.
"It was a great workshop with great learning! I am glad, I got the opportunity to attend an AYUDH offline event after 3 years, visit ashram and interact with AYUDHians face to face! The workshop was thought provoking, fun as well as informative! I learnt about relation between our mind and breathing and also how important it is to be able to control our emotions as well as our thoughts in order to attain true success in life. Heartfelt thanks to the organizers !" remarked Ms. Anjali Waske from Accenture, Pune.
"The workshop was my best experience ever. Self-Management workshop personally helped me a lot to learn for my life. I received clarity in every aspect of managing thoughts, stress and emotions. From bottom of my heart, I am glad n thankful to Amma for providing this opportunity ", said Ms Aishwarya Bhagat, Amrita Vidyalayam, Baneshwar,Pune.
In this hasty world with lots of activities, we often tend to get confused with what to follow, whom to follow, when to follow,etc. Self-Management help us to balance everything in life. We learned that the real satisfaction comes only thorugh that and it gave me the direction on how to practice the techniques to attain the same", remarked Mr Vishwajeet Jamdar, Baneshwar, Pune.
"I found the workshop to be very informative and thought provoking. The speakers were very knowledgeable and provided a pace for questions for us which was extremely interesting.", said Ms Dhanashri Ravindra Shedge, Pune