Eco-Friendly Ganesh Idol Workshop by AYUDH Pune as part of 'Punarjani' Phase 3
Eco-Friendly Ganesh Idol Workshop by AYUDH Pune as part of 'Punarjani' Phase 3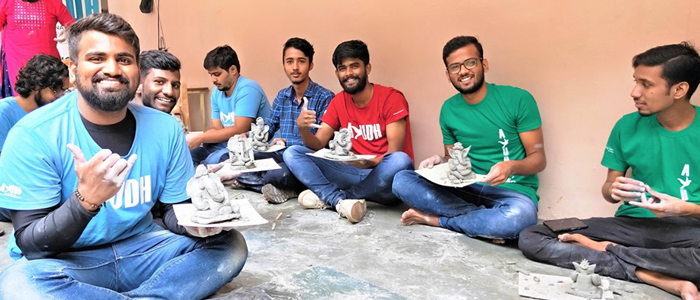 "My Cute Ganesh" - Eco-Friendly Ganesh idol Workshop by AYUDH Pune as part of 'Punarjani' Phase3.
It all began when AYUDHians went to execute the 'Punarjani', the river clean up Project 2019. They found hundreds and thousands of idols at the bottom of the river and decided to kick off the public awareness campaign to have Eco-Friendly Ganesh idol which do not harm the rivers and water bodies. They learnt Ganesh idol making and installed their cute Ganesh at their homes.
Eco-Friendly idols were installed in Pune Ashram and School also, coordinated by AYUDH team.
There was also a discussion and interactive session based on the significance and symbolism of Ganesha Chaturthi. Hearty Congratulations to the Team for making this BIG change in the society.