Launch of "Each One Teach One" Project @ Mumbai Chapter
Launch of "Each One Teach One" Project @ Mumbai Chapter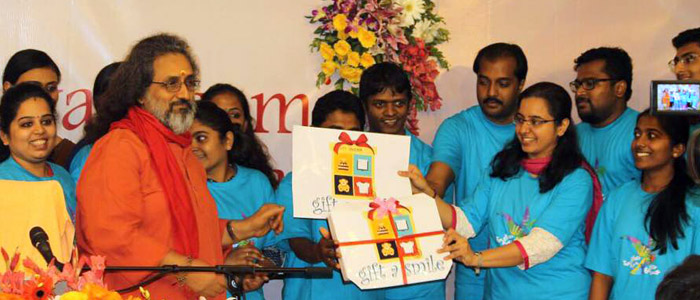 AYUDH launching their new project 'Each One Teach One,' during Pujya Swamiji's visit at Mumbai Ashram.
Nelson Mandela stated education is the most powerful weapon we can use to change the world. Statistics states 76% of students do not make to higher education system. In our society, children often feel left in need. nothing makes a bigger difference and impacts the youth more than dedicating quality time bonding and learning from each other. The youth is often impacted more profoundly when provided moral support and guidance.
AYUDH Mumbai through 'Each One Teach One,' campaign aims at providing education to youth of lower income group with knowledge to be a responsible citizen.
AYUDH invites application from individuals to support us in our initiative for a better cause of giving back to our society .
"From what we get we can make a living; what we give however makes a life". It was a Memorable occasion when Pujya Swamiji himself launched the "Gift a Smile" of AYUDH Mumbai. 'Gift a Smile' is an initiative to provide lower income class a platform to purchase books,toys and clothes at negligible price which otherwise they couldn't have afforded. The items they can purchase are made available as if they are new, nicely packed in gift wrappers exactly how you buy from an expensive shop. These items are donated by public who would like these items to be put to better use than lying in their cupboards. Through this initiative we help individuals provide an opportunity to donate to genuine needy people and empower lower income group to own stuff with self respect and confidence.
Tags:
2017
,
Mumbai
,
Maharashtra
,
Personal Empowerment
,
Society
,
Each One Teach One