National Youth Day Celebrations @ Bhusawal
National Youth Day Celebrations @ Bhusawal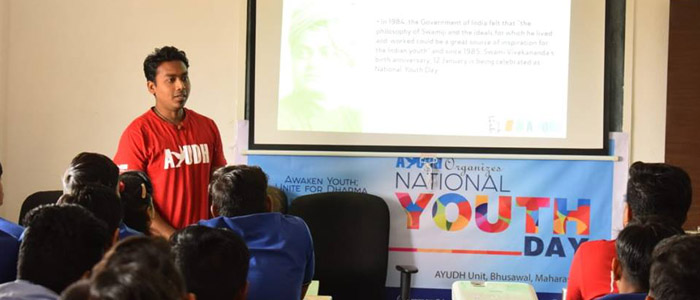 The AYUDH Chapter of Bhusawal, Maharashtra celebrated National Youth Day on January 12, 2019.
AYUDH team at Bhusawal addressed the youngsters in their locality and to spread awareness about the Power of Youth in the society.
With the Leadership of Mr Ranjith Singh Rajput, Ayudhians of Bhusawal conducted motivational speech & presentation on 'The power of Youth to transform the society' in the nearby institutions including Adarsh Hi-Tech Institute. They also conducted an interesting quiz contest for the youngsters based on Swami Vivekananda's life and inspiring work that he did for the Nation.
The youngsters who attended the session were highly inspired to join the AYUDH team at Bhusawal and to participate in the future activities that are planned to serve the Mother Nation.
Tags:
2019
,
Maharashtra
,
Mumbai