Tree Plantation Drive by AYUDH on World Environment Day 2019
Tree Plantation Drive by AYUDH on World Environment Day 2019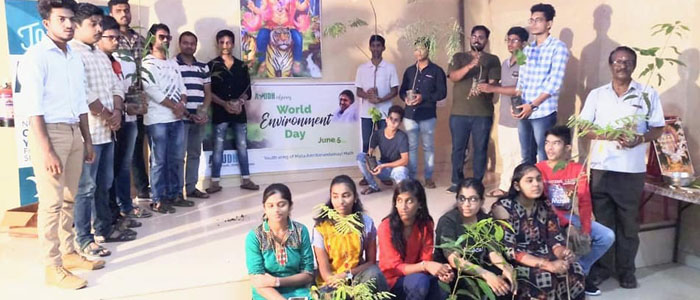 "Plant a tree, Plant a hope for future"
Tree plantation drive by AYUDH Bhilai
chapter on World environment day'.
Inspired by the UN Environment Day theme 2019, Air pollution, youth of AYUDH Bhilai chapter tried to make a difference on this world environment day by organizing a tree plantation program near Ayyappa Mandir, at Steel City, Bhilai.
They made their small yet significant contribution towards Mother Nature by each one planting a sapling as a token of love and gratitude towards their mother nature. The day started with youngsters gathering at the Auditorium of Ayyappa temple sector 2.
The gathering was addressed by Akshay P Nair the coordinator of AYUDH Bhilai. He said that we are seeking to expand the work of plantation and other social service activities, it's just a beginning. Through his speech he congratulated all the AYUDHians who gathered for this noble cause and motivated each member to keep up the good work throughout their life. The temple committee members also addressed the gathering highlighting the importance of not only planting but also taking care of the saplings they are planting. The passionate members started planting the sapling that they were gifted and later everyone together took an oath to nurture and protect the saplings they are planting. Each of them named their plants and also took selfies with their saplings which they planted with full love and hope. The members of AYUDH Bhilai through their work have become a source of inspiration for Bhilai to follow.
AYUDH wishes a greener and safer environment for future. The primary motive was to create awareness and promote sustainable and safer environment by inculcating love for nature and to encourage the youth to stop blaming others for all the problems but rather to take initiative and to come together as concerned citizen and as one team , and actively work towards a greener and cleaner Bhilai. The day was observed with great enthusiasm.
Tags:
2019
,
Raipur
,
Chhattisgarh
,
Green Initiatives