AYUDH Team from Pune Enthusiastically Participated in the ASWAS Campaign
AYUDH Team from Pune Enthusiastically Participated in the ASWAS Campaign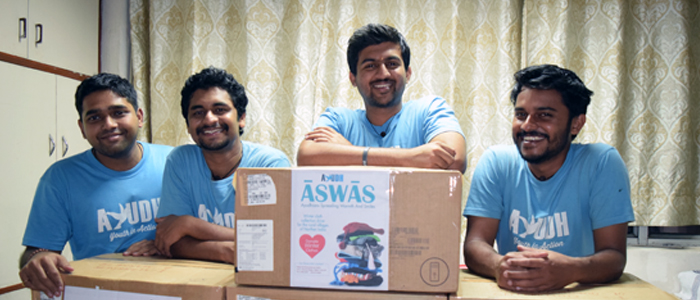 The woollen clothes collected by AYUDH Pune volunteers as a part of ASWAS (AYUDHians Spreading Warmth And Smiles) campaign have been dispatched. These clothes will be distributed to the needy families in Sujanpur village, Punjab. The team got one more opportunity to practice Amma's selfless giving!! And they experienced that these little things occupy the biggest part of their Hearts!!
ASWAS (AYUDHians Spreading Warmth and Smiles) is a winter cloth collection drive for our villagers in north India. No need to say the pathetic condition of our rural villages during this winter season. Due to inadequacy of proper clothing hundreds lose their lives in every winter season.
Among the 101 village that have been adopted by Mata Amritanandamayi Math, there are around 35 villages in northern side of India. ASWAS is a small act of kindness to help those people there providing proper winter clothing in this season.
ASWAS campaign is aimed at creating awareness among the public and to encourage them to contribute towards helping poor North Indian villagers by donating winter clothes.
2016
,
Maharashtra
,
Pune
,
social service